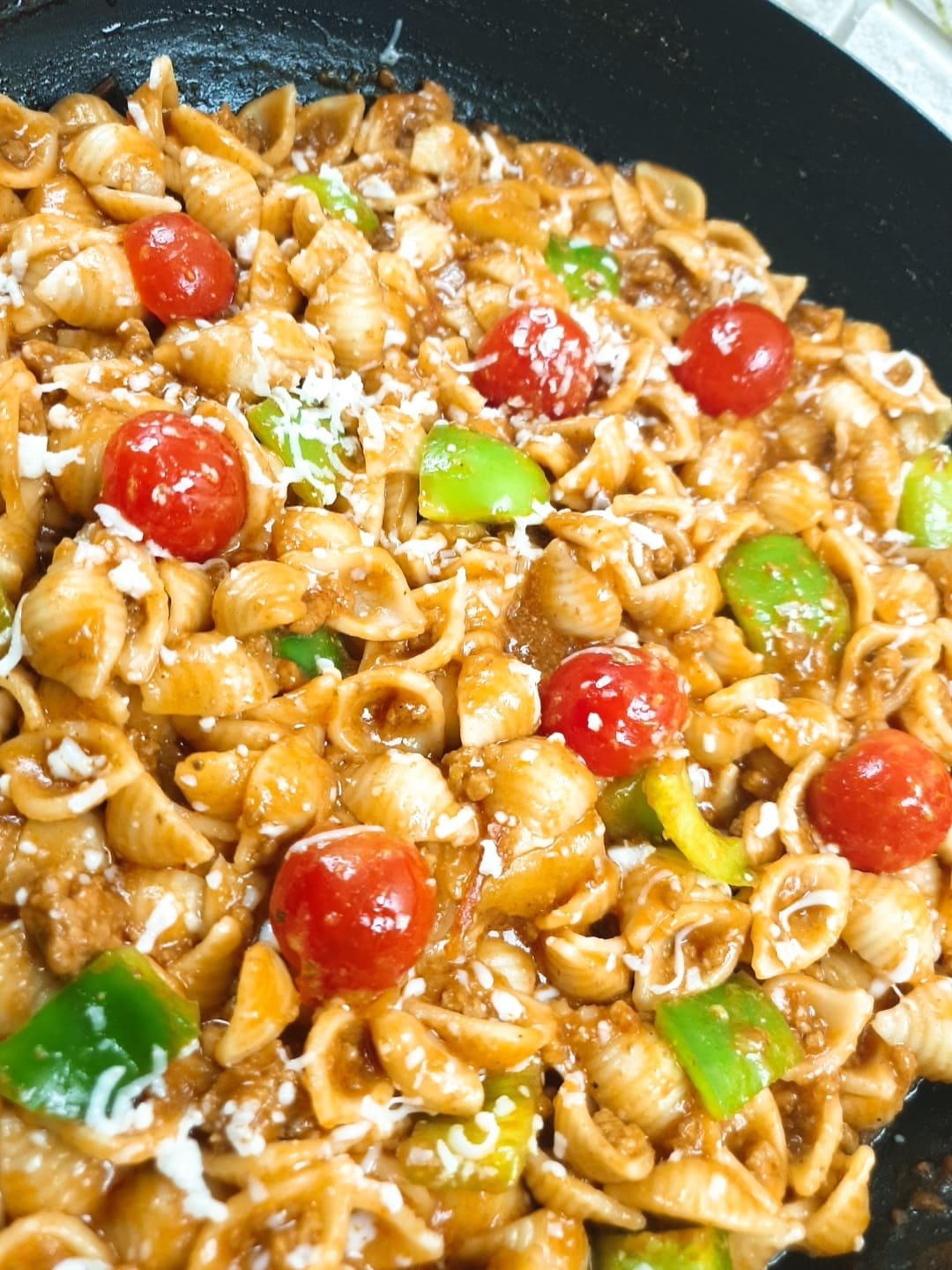 Delicious Easy Saucy Shell Pasta
Directions
In a sauce pan add 4 tbs oil and 500g Minced meat and fry on medium flame for 5-8 minutes
When the meat colour changes add chopped onion and ginger garlic paste then sauté for 2-3 minutes
then add 1 cup fresh chopped tomato puree and 1 tbs chicken powder/stock then cook for 5-10 minutes
After that add salt, black pepper, red chilli powder, turmeric powder and (oregano) mix well
Add tomato ketchup, soya sauce and hot sauce mix it and cook for 5-8 minutes
Add boiled small shells pasts and mix well everything is well combined
Add butter at the end Then sprinkle some cheese and mix and turn off the flame
Garnish cherry tomatoes, capsicum, onion and spring onion on top then serve
Delicious Easy Saucy Shell Pasta is Ready!!
Easy Saucy Shell Pasta
Follow The Directions
Step1
In a sauce pan add 4 tbs oil and 500g Minced meat and fry on medium flame for 5-8 minutes
Step2
When the meat colour changes add chopped onion and ginger garlic paste then sauté for 2-3 minutes
Step3
then add 1 cup fresh chopped tomato puree and 1 tbs chicken powder/stock then cook for 5-10 minutes
Step4
After that add salt, black pepper, red chilli powder, turmeric powder and (oregano) mix well
Step5
Add tomato ketchup, soya sauce and hot sauce mix it and cook for 5-8 minutes
Step6
Add boiled small shells pasts and mix well everything is well combined
Step7
Add butter at the end Then sprinkle some cheese and mix and turn off the flame
Step8
Garnish cherry tomatoes, capsicum, onion and spring onion on top then serve
Step9
Delicious Easy Saucy Shell Pasta is Ready!!